Do any of these apply to you?
You're starting out as a freelance book editor, and you don't know where to find your first few clients.
You've been editing for a while, but you're now languishing in the dreaded "feast or famine" cycle.
You aren't meeting your income goals, despite working as hard as you can.
If so, we've been there! And we have the solution.
Marketing.
Now, like freelance book editing itself itself, marketing your freelance business is largely a learn-by-doing activity. You have to do the work, get feedback, incorporate that feedback into future work, lather, rinse, repeat.
But before you learn by doing, we recommend you get some training. Orient yourself to the various approaches to marketing so that you have guidelines to follow once you do take action.
Marketing Your Freelance Book Editing Business 
To market effectively, you should know:
Who your marketing is for. A book's readership isn't "everybody," and neither are your services. Who's your ideal client, and what's your ideal project?
What you offer and what you prefer. What do you know how to do, and what do you love doing? Do you have a niche? If you don't, how can you find one, or tailor your marketing to not having a niche?
How your message might be amplified by networking and referrals. Who do you already know?
What environments you can be visible in. Where can you talk about your services?
How you frame yourself. Can you talk about your services in a way that makes someone want to work with you?
Pat Dobie and I work with other editors all the time, and we see how hard they sometimes struggle to market their businesses. And yes, we've experienced it too, and it's unpleasant.
So we decided to develop a course that explores the world of marketing for your editorial business and helps you establish solutions to the questions above. We want you to work smarter, not harder. (That's a cliché – but it's a cliché for a reason!)
What's Different About This Marketing Course?
There's no dearth of online courses about marketing. Why should you sign up for ours?
It's aimed specifically at freelance book editors.
It's based on survey data from the Survey of Best Marketing Strategies for Freelance Book Editors, a survey of working freelance book editors in North America, the UK, Australia, and New Zealand.
As part of the course, you receive the entire survey report—22 pages of information and stories on what works and what doesn't for marketing editorial services.
You get eight downloadable workbooks—43 pages of targeted exercises and curated resources to help you identify your strengths, articulate your interests, create your niche statement, and develop a simple, doable marketing plan.
You get a thorough grounding in the "seven baskets" of marketing, from referrals to content marketing to meeting authors.
We cover social media: step-by-step guidance on how to use social platforms, instruction on how to create shareable graphics, and a discussion of activities you can do instead of (or in addition to) social media to expand your reach.
Most of all, we're in the same industry as you. We have both built successful editing businesses from the ground up, one client at a time.
Your Instructors
Pat and I have been working as full-time editors for a combined total of one million years.
Kidding! Thirty-five years. If you haven't already read our instructor bios, here they are.
Our calendars fill from a combination of marketing activities. Most are deliberate, though there are always those opportunities that come out of left field—usually as a serendipitous outcome of networking.
Pat's Little Story about Marketing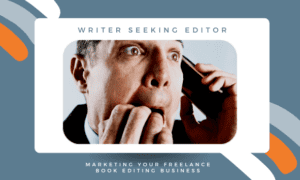 My first paid editing job came over the phone. I was in my basement at the time, working on a novel (well, staring at a bunch of index cards I'd stuck to the wall). My kids were (I think) five and nine. I was in the middle of a low-residency MFA program and facing a career change in midlife. I'd been casting about for rewarding work I could do from home…
…Meanwhile, unbeknownst to me, a friend of my brother's had written a memoir. He didn't know if it was any good and hadn't found anyone to publish it. My brother told him, "My sister is getting into editing. You should give her a call."
My phone rang. The writer introduced himself, mentioned my brother, and we talked about his memoir. He sent me a draft and I sent him a quote. He hired me for that project, and we worked together happily ever after (yes, he's still one of my clients today).
Where's the marketing in that story? It was rudimentary, and I didn't realize it was marketing. But the first part was telling people that I was interested in editing books. The second part was having a phone call with the writer about his project without necessarily trying to sell him anything.
Class Tour of Marketing Your Freelance Book Editing Business
Module 1: Introduction
This module introduces your presenters, Susannah Noel of Editorial Arts Academy and Pat Dobie of Lucid Edit. It tells you what to expect and contains the course objectives.
Downloads: 1) the course outline, and 2) our survey report on the Best Marketing Strategies for Freelance Book Editors.
Module 2: The Point of Marketing
We begin this module with an overview of our Survey of Best Marketing Strategies for Freelance Book Editors. Next comes a fresh look at marketing—a metaphor that might help conceptualize this sometimes-murky topic. Then we go to who you are, and your niche. If you believe you don't have a niche, or if you're transitioning from one niche to another, this module will give you other approaches to identifying your target clients.
Download: A workbook that will help you consider your editing history, your strengths, and your preferences.
Module 3: Your #1 Tool
This module is all about Your #1 Marketing Tool (spoiler alert: it's networking!). We go over some of the ways you can network, both online and in person, and why you'd want to.
Download: Workbook with resources for online networking, with lists of online editorial groups and hashtags.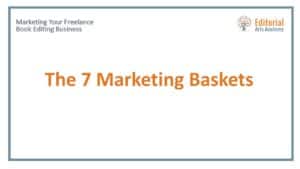 Module 4: The 7 Marketing Baskets
This is the meat of the course: an in-depth look at the seven marketing baskets.
Lesson 4.1: Introduction & Basket 1 – Referrals. Download: Workbook

with a preview of all 7 marketing baskets.

 
Lesson 4.2: Basket 2 – Content Marketing. 
Lesson 4.3: Quick Sidebar… Visuals! The Why & How. Download: Workbook

to help you think about your niche and what and where to post. Also includes links to design tools.

Lesson 4.4: Basket 3 – Your Website. Download: Workbook

with step-by-step guide to creating a website and information on SEO. 

Lesson 4.5: Baskets 4 to 7 – Job Sites, Profiles, Listings & Author Groups. Download: Workbook listing editorial organizations, job boards, and author groups, with guidelines on how to find work with publishers.
Module 5: Your Marketing Plan
This is where you mull over all the information you've taken in so far and start making decisions about where you will put your time and energy over the next twelve months. 
Download: A 17-page workbook that will walk you through how to set your business goals, give you a simple one-page template you can use as a basic marketing plan, and show you a sample marketing plan for the fictional company "Acme Editing."
Module 6: Growing Your Business
This module delves into the beauty of the editorial business—how your role in creating the world's books can create a rich and rewarding work life. We finish by going over the course's key takeaways.
Download: A list of the sources and resources we used to create this course. It's there for your reference as you investigate editorial groups and writing associations, hone your niche statement, and start executing your marketing plan for the next twelve months.
Bonus Module
The bonus is a twenty-minute Q&A from the live version of Marketing Your Freelance Book Editing Business course held in October, 2022. We got some great questions, like:
What if you're between niches?
Would Pinterest be a good way to drive traffic to your website?
What if [the platform formerly known as Twitter] exhausts you?
How does a novice editor compete with all the editors who have degrees and have written books?
Looking for More Information?
You can find out more about the course on the sales page or on the class page of the EAA Learning Community.
Oh, and one more perk of the class: Once you've finished, you can join our EAA alumni forum, where you can further your marketing with that #1 tool (networking, remember?).
How to Register
If you're ready to learn about marketing your freelance book editing business, register for this course by clicking the button below. Be sure to check the sales page first to see if there are any available discount codes.