Self-help books are among the most popular genres for nonfiction books today. But where is the "self-help" book for editors who support authors in writing such books?
There's a gap in that market, with one exception: Scott Norton's Developmental Editing: A Handbook for Freelancers, Authors, and Publisher (2009). This text is a good start; it's filled with loads of good advice and demonstrations of the craft. But Norton's well-known monograph provides no simple strategy or tactics for performing the actual deed.
My class, Developmental Editing for Nonfiction Popular Books, seeks to remedy that situation.
Learning to Edit Nonfiction Books
Back in 1996, I needed that kind of "editorial self-help" when I took on my first developmental editing project. I was working on a book that became an all-time bestseller, Molecules of Emotion by Dr. Candace Pert. Published by Simon & Schuster and still in print today, MOE (as we affectionately referred to it) established the mind/body/spirit connection in solid science and led to a burgeoning alternative health movement that is flourishing today.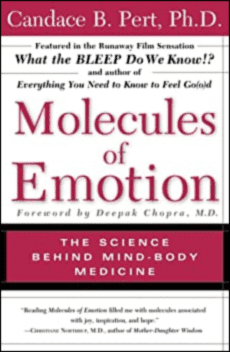 Molecules of Emotion, by Dr. Candace Pert, was the first book I ever edited. It went on to sell over twenty million copies worldwide.
Truth be told, I winged it. It helped that Candace and I were girlhood friends, able to easily go back and forth (although there were some rough "learning" moments!) in telling of her breakthrough discoveries and experiences as a woman in a male-dominated arena of science.
In the process, however, I discovered the valuable truism Norton announces in the first pages of his book: developmental editing is largely "intuitive and organic"—so much so, he wonders if it's even possible to teach it.
Although Norton does a decent job of covering the ground of developmental editing for nonfiction, still needed today is a teaching blueprint, one that lays out a step-by-step process for how to perform a developmental edit on nonfiction. 
Why? Because many of those kinds of popular ("trade") books are being written by people who are experts in their field—doctors, businesspeople, health practitioners, artists—who have no experience or training in how to craft a book-length project. These authors need basic help right out of the gate. Simply organizing and structuring the book's content and establishing a voice are huge challenges for untrained writers. That's where developmental editing comes in.
Many people who write self-help, health/wellness, spirituality, teaching memoirs, and other prescriptive nonfiction are not trained writers.
Editing Course: Developmental Editing for Nonfiction Popular Books
Today, self-help, memoirs, "big idea" and platform-themed books that feature an author's expertise are among the top-selling books in the nonfiction book market.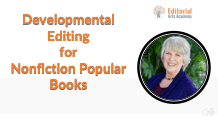 So how can you tap into that market as a freelance book editor providing developmental editing?  The first step is to get trained so you have the skill to do the job—but as I've shown, getting trained is also the first challenge for many editors. Developmental editing comes in many forms, as applied to novels to business proposals to academic treatises.  You'll find training for those kinds of DE—but not necessarily for books aimed at the general reading public, the kind I teach in my online course, Developmental Editing for Nonfiction Popular Books.
There's a reason for the scarcity of training programs aimed at how to edit nonfiction popular books, and that's because, as Norton alluded, developmental editing for nonfiction requires a trust-your-gut kind of willingness, one that's not so easy to learn, one that relies on an intuitive sense of what works in a book and what doesn't. 
Here's an analogy: When learning to swim, you're not told, "Just jump in, and you'll know what to do!" But in developmental editing, that's actually good advice.
 In Developmental Editing for Nonfiction Popular Books, I'm going to throw you a life-saver—a stage-by-stage unpacking of the process to make it easier to follow and perform. But even then, at some point, you're going to have to swim on your own.  And that's the challenge!
So be forewarned: developmental editing is not for the faint of heart—you must be willing, ultimately, to trust your gut in order to excel!
If you read a lot, and read good books, then you know what makes a book good. You can trust your gut.
What Is Developmental Editing for Nonfiction Books?
The terms "substantive editing," "content editing," and "manuscript editing" are synonyms for "developmental editing." They all refer to the same thing: the big-picture view of a manuscript in relation to structure, organization, content, presentation, and voice. Developmental editors do not focus on line-by-line issues, but rather issues that unfold chapter by chapter and relate to the content of the whole book.
For example, some of the questions for the developmental editor include:
Is the content cohesive, or does it ramble on into extraneous material?
Do the chapters follow logically?  Is there a unifying voice throughout?
Does the book have an ending and beginning? Transitions between chapters? Repetition of material?
Is the material sufficient, or are there big gaps in the content?
Is the content appropriate for the target audience?
And many more such questions. Once the developmental edit is complete,  a manuscript is ready for language editing: line editing, copyediting, and proofreading.
Some of this you may have learned about if you majored in English or you've taken writing courses.  Full disclosure, I myself have never taken a writing course—or an editing course! I do have two degrees in English, but more importantly, I'm a high-volume reader. An omnivorous reader. I love to read, and that, by the way, is the first requirement for being a good developmental editor. It's key because if you read a lot, and read good books, then you know what makes a book good. You can trust your gut.
Being a reader is the foundation, but there's still a lot to learn to hone the skill of developmental editing. I started researching online courses back in 2019 and found none that directly addressed both nonfiction and popular books. So, I created one myself, a six-week course I taught live over Zoom in 2020 titled Developmental and Line Editing for Popular Nonfiction Books. I followed up with a practicum version of that class, taking a small group through the process of editing a real manuscript provided by one of my clients. That experience led to mentoring students in developmental editing, either by providing support as they took on their own projects or letting them "ride along" while I edited a manuscript I had secured.
My current offering, Developmental Editing for Nonfiction Popular Books, comes not just from my twenty-seven-year career as a developmental editor of nonfiction books, but from my experience as a teacher, coach, and mentor. Offered as a semi-synchronous, five-module online course, it can be taken at the convenience of the student and includes two live meetings ("office hours") with me, as well as an online forum with fellow students that I drop in on.
Each of the five modules contain three lessons that are presented through PowerPoint slides with recorded voiceover lectures. Included are downloads of templates with samples that you can use to support your clients in the development of their manuscripts and also for managing your projects and business.
Developmental Editing for Nonfiction Popular Books: COURSE PROMISE
You will gain the knowledge and skill needed to take on developmental editing projects as a freelance book editor and complete those projects successfully.
Developmental Editing for Nonfiction Popular Books: Take the Tour
In Developmental Editing for Nonfiction Popular Books, you'll get the training you need to offer developmental editing as well as line editing, book proposal editing, and other services nonfiction authors need and that can become added income streams for you. The focus of the class is on trade books—not technical, medical, or academic books, but rather the kinds of books you're likely to come across when browsing in your local brick-and-mortar bookstore, or searching online for leisure or self-improvement reading. The focus is on books dealing with self-help, health/wellness, spirituality, teaching memoirs, and other prescriptive nonfiction. Weekly optional assignments will help you sharpen your skills. The class will wrap up with how to start and build a business in developmental book editing, a unique and growing field with increasing opportunities.
Here's a brief tour of the five modules of the course:
Module 1: Introduction & Overview of the Territory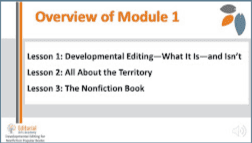 Module 1 introduces you to the world of developmental editing and the kinds of books you will be learning to edit in this course. 
Lesson 1.1: "Developmental Editing: What It Is And Isn't." In the first lesson, you are oriented to the skill of developmental editing and learn how you might already possess what it takes to excel. I bust the three most common myths about developmental editing, freeing you to pursue developmental editing with greater confidence.
Lesson 1.2: "All About the Territory." You're introduced to the 7 editorial roles and how developmental editing fits in to the editing process. We also go over the definition of developmental editing, contrasting it with other kinds of editing.
Lesson 1.3: "The Nonfiction Book." Since developmental editing is the big-picture view, we map the contents and layout of a typical nonfiction book, and also explore organization and structures for subgenres, such as the teaching memoir and self-help.
Module 2: How to Do a Developmental Edit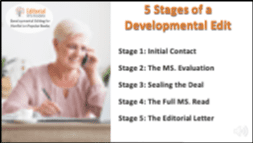 In Module 2, you will learn a 5 stage plan for performing a developmental edit on a nonfiction manuscript, from the initial contact to writing the Editorial Letter, and the tools/forms you'll need to do the job.
Lesson 2.1: "The 5 Stages of a Developmental Edit." I show you the five stages of a developmental edit that you'll go through for a nonfiction manuscript.
Lesson 2.2: "Revision: Writing the Editorial Letter." I unpack the editorial letter, giving you a formula (template and sample included) for writing developmental feedback and the process for implementing changes, as well as do's and don'ts of writing in-text commentary and author queries.
Lesson 2.3: "What You'll Need to Do the Job." You learn what tools—forms and tech—you'll need to easily and successfully perform a developmental edit.
Office Hours with Instructor
In week 2, come to the first of two 60-minute Zoom meetings with me and your classmates. 
Module 3: Adding Value and Income: The Line Edit & Book Proposal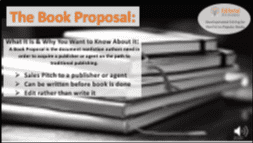 In Module 3, I'll show you how to provide further services for your authors. Once you've helped develop the content of a nonfiction book, authors often need line editing, and in some cases, a book proposal to help them get an agent or publisher.
Lesson 3.1: "What Is Line Editing?" This lesson delves into the definition of line editing and how it is distinct from other kinds of editing. What literary elements do you need to pay attention to when revising the language of a manuscript?
Lesson 3.2: "The 'How To' Stages of a Line Edit." Just like for a developmental edit, there are five stages, and a simple strategy to get the job done. I unpack each of them.
Lesson 3.3: "The Book Proposal—How to Edit/Write One." I give you a template and tips for supporting your authors who want to present their finished manuscript to an agent or publisher.
Module 4: Working with Authors: The Professional & Personal Relationship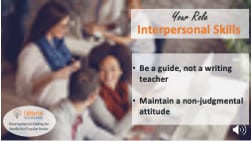 In Module 4, I'll teach you what I've learned works in relating to and supporting my nonfiction authors. Knowing how to manage that relationship from the outset, both interpersonally and professionally, can save you much stress and grief over the course of the project.
Lesson 4.1: "The Interpersonal Relationship." We cover what it takes to have a successful personal relationship with your author so things run smoothly, and authors keep coming back for more.
Lesson 4.2: "The Professional Relationship." This lesson covers best practices for handling the professional side of your relationship, including contracts, workflow, and communications, and how the path to publication may vary author to author.  
Lesson 4.3: "Your Offer of Support Services." In both the personal and professional relationship with your author, you can support them by offering—and charging for—important additional services, such as query letters, one-pagers, cover blurbs, and letters requesting testimonials.
Module 5: Running Your Developmental Editing Business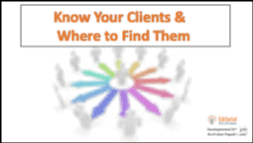 In Module 5, I will go over specifically what it takes to run your business, paying special attention to ways the developmental editing business is unique among other kinds of freelance editing businesses. 
Lesson 5.1: "Setting Up Your Developmental Editing Business." This is all about getting started in your home office and running your freelance business. Part-time or full-time? What software do you need? We'll answer these questions and more.
Lesson 5.2: "Finding Work and Getting Paid." The most frequently asked question I get about developmental editing is, "How do I find work and get paid?" In this lesson, I'll answer that question from my own experience and also with a view to the current market.
Lesson 5.3: "Expanding Your Skills: Ms. Evaluation, Coaching, Collaborating & Ghostwriting." We explore other services that fit naturally with developmental editing.
Office Hours with Instructor
In week 5, come to the second 60-minute Zoom meeting with me and your classmates. 
How to Register
If you're ready to get trained in developmental for nonfiction popular books, register for this course by clicking the button below. Be sure to check the sales page to see when the next course is running and if there are any available discount codes.