Running Your Editorial Business Like a Pro
When?
Self-paced and on demand
Where?
Online
How much?
$149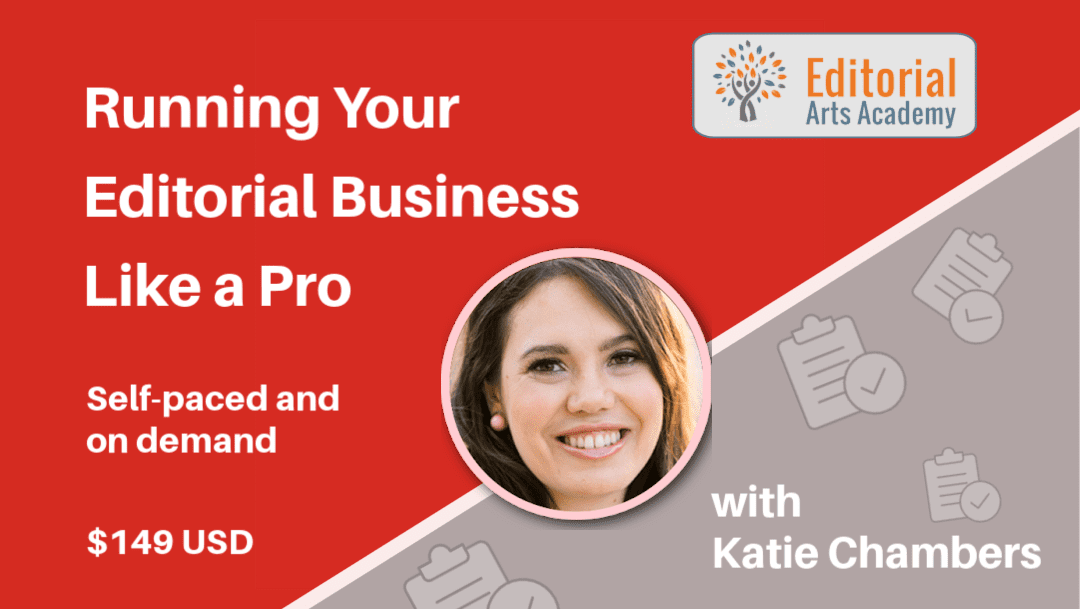 Level: Beginner/Intermediate/Advanced
Designed for freelance editors who are setting up or already running a freelance editing business.
Self-paced and on demand
This 5-unit class is available on demand. Start anytime; complete on your own schedule.
Price: $149
The 14 lessons in this class, along with the class forum, assignments, resources, and demos, cover what you need to know to handle the administrative side of running your freelance business. 
Available anywhere with an Internet connection
The class is accessed through EAA's Learning Community, an online platform. Students have forever access.
Are you launching a freelance editorial business?
Are you already a freelance editor, but feel overwhelmed by all you need to do for the administrative side of things?
Do you want templates for things like creating a website, tracking your time, and writing contracts?
Would you benefit from demos of software and tools so you know just what to buy and how to use it?
If you answered yes to any of the above, we are confident this course is a good fit.
Class Overview
Running Your Editorial Business Like a Pro covers the administrative side of running a freelance editorial business.
To find success as a freelance editor, you need to know how to edit. But you also need to know how to:
create a website and a brand
set up contracts
track your projects
set rates
choose the best software for client management, tracking projects and metrics, and finanical management
This class shows you all of the above, and much more.
You will get:
clear assignments (optional and ungraded, and organized by veteran and newbie), which will give you a checklist of tasks to set up your business or improve operations on an established business
demos of software and tools to help you decide which are right for your business and give you a head start on how to use them
a wide variety of resources to help you put knowledge into action (see list of resources below)
a forum, where you can ask questions of the instructor anytime
The course does not teach you how to edit, and it does not cover marketing – but it covers everything else related to the business of being a freelance editor.
Unit 1: Website and Branding
Branding, Website Email & Domain Creation, Website Content
Unit 2: Client Interactions
Contracts, Template Emails, Client Interactions
Unit 3: Projects
Time Management, Tracking a Project, Tracking Metrics
Unit 4: Finances
Setting and Raising Rates, Invoicing, Managing Finances
Unit 5: Overall Business Management
Manage Your Business, That's a Wrap
What Students Are Saying…
"This is a good investment for new and seasoned editors alike. It covers the whole process (website building, project management, invoicing, etc.) in detail, so that even experienced editors can be inspired to improve their process. I will definitely refer back to the course content in the future!"
"As someone who is still deep in the process of getting started as an editor and setting up my business, this was EXACTLY what I needed. This course walks you through every single aspect of the business management side of editing and leaves you feeling completely prepared with all of the systems, processes, and tools you need to run your business smoothly. I couldn't have done it without this information and I know I will be coming back to the content again and again as I continue to streamline and improve my processes."
"This course is jam-packed with invaluable information on running your own business. If you've been running your own business for a while, there are a ton of ideas to help you level up. The templates are very helpful, as are the video overviews and comparisons of various programs you can use to streamline your business. The forum provides a really nice way to connect with others and to get personalized feedback on all aspects of running your business. This was truly a worthwhile investment for me, and I'm excited to continue implementing what I've learned."
About Katie as a presenter: "The presenter was very clear, organized, and just overall impressive both in her presentation and in the work she is doing. Also she was very generous with sharing her knowledge and resources."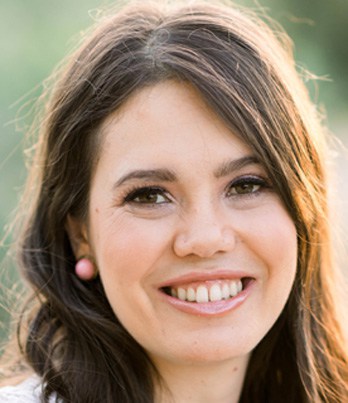 Your Instructor: Katie Chambers
Katie Chambers, owner of Beacon Point LLC, is a nonfiction and fiction developmental editor and copy editor for independent authors, content writer and editor for business professionals, online teacher, and tutor.
 After discovering a love for the administrative side of running her own business, she spent significant time creating systems and processes to help her streamline her business. Having taught middle school and high school for eight years, she is passionate about teaching and helping others learn.
Unit 1: Website and Branding
Lesson 1: Branding
Why you need a clear brand
What elements of your brand to consider and tips for implementing them—customer experience, distinct features of your services, visual elements (fonts and colors), written elements (business name and tagline)
What branding documents to consider (letterhead, logo, business cards, email signature, social media banners, social media post images, blog post images, flyers, and brochures)
Lesson 2: Website Creation and Email Domain
Why you need a website
What you need to create a website
How to get an email with your domain
Lesson 3: Website Content
What general principles guide good website copy
What to include
How to write your bio, description of your services, contact form, and how to display your portfolio
What is working well on other editors' websites
Unit 1 Resources
Create Brand Worksheet (Word fillable and PDF version)
Examples of Branding Documents from various editors (business cards, letterheads, logos, email signatures, social media post templates, brochure, social media banners)
Website Content Checklist
Video Tutorial Analyzing Five Editors' Websites
Unit 2: Client Interactions
Lesson 4: Contracts
Why you need one
What to include
What can you use to create it
How to format it
Why you may need different versions
Lesson 5: Template Emails
Why you need them
How to create and use them
What email templates you may consider using (see 16 of my email templates and get a list of emails you might want to create templates for)
Lesson 6:  Client-Relationship Management
How to manage clients' information (intake data and files)
How to ensure you send all emails in your process
How to organize and save emails
When to create tasks and set reminders to take action
What software can help with client-relationship management
Unit 2 Resources
Example Contracts from various editors

Contract Checklist (Word fillable and PDF version)

Video Tutorial on How to Use Content Controls in Word

Content for 16 of my Email Templates

Video Tutorial on How to Create and Use Template Emails in Zoho with links to directions for using other email clients

Video Tutorial on How to Use Conditional Formatting in Excel

Conditional Formatting Handout (teaches you how to use conditional formatting in Excel)

Video Tutorials Showing How to Use the CRM Portion of Various Freelancer Software

Customer Relationship Management Software Handout w/pricing, pros, and cons
Unit 3: Project Management
Lesson 7: Time Management
What to include in your time management plan (amount of projects, admin categories, schedule)
How to track and analyze your time
What software can help with time management
Lesson 8: Tracking a Project from Start to Finish
What to include in your project intake form and your intake process
How to schedule projects
How to manage your projects (ensure you go through every step, help you meet deadlines, record necessary details, etc.)
How to organize your files
What software can help with project management
Lesson 9:  Tracking Metrics
What to track (speed, rate, marketing efforts)
What software can help with tracking your metrics
Unit 3 Resources
Time Management Plan Worksheet (Word fillable and PDF version

Time Management Software Handout w/pricing, pros, and cons

Video Tutorial Showing How to Use Toggl for Effective Time Tracking

Editorial Process Checklist (for project management, customizable)

Video Tutorials Showing How to Use the Project Management Portion of Various Freelancer Software

Project Management Software Handout w/pricing, pros, and cons

Metric Tracking Software Handout w/pricing, pros, and cons

Video Tutorials Showing How to Use the Metric Tracking Portion of Various Freelancer Software
Unit 4: Financial Management
Lesson 10: Setting and raising rates
How to determine which charging method is right for you (various methods and their pros and cons)
How to determine what to charge (three different methods to configure your rate)
How and when to raise your rates (how to change, how to handle current clients, keeping the market in mind)
Lesson 11: Invoicing
How to create your own
What are the pros and cons of various invoicing software
Lesson 12: Managing finances
How to keep good books for your business (data entry, setting up categories, generating reports)
What you need to know about taxes (understanding them, deductions, tips for paying your taxes, how to configure your taxes)
What software can help you manage your finances
Unit 4 Resources
Invoicing Software Handout w/pricing and features

Video Tutorial Showing How to Use the Tax Rate Worksheet in Excel

Configure Effective Tax Rate Worksheet (Excel worksheet with automatic formulas)

Video Tutorial Showing How to Calculate Your Monthly and Quarterly Tax

Financial Management Software w/pricing, pros, and cons

Video Tutorials Showing How to Use Various Financial Management Software
Unit 5: Overall Business Management
Lesson 13: Manage your business
What systems and software can help (overview of all systems and software mentioned in the lessons)
How to delegate
What to include in your business files
How to set up your office
Lesson 14: That's a wrap
Unit 5 Resources
Business Binder Information Examples

List of All Tools and Software Mentioned in the Lessons 
FAQs
What is the course content like?
The lessons are written out with clearly identifiable headings, so you can skip around to various sections if needed. Some lessons contain video tutorials, links to outside resources, and handouts/worksheets.
What equipment and software will I need?
Since the course is online, you will need access to a computer, tablet, or smartphone. If you want to take advantage of the Word fillable worksheets and/or the Excel worksheets, you will need Microsoft Office or 365. If you don't have either of those, you can use the PDF versions (included in course) for the Word sheets. No alternate exists for the two Excel worksheets, as they rely on Excel formulas.
Will there be a chance to interact with students and teachers?
The course has a forum where you can post questions, post helpful tips and advice for others, and get feedback from the teacher and students on any of your administrative systems, pieces, and processes. Your instructor will provide feedback for everything posted. While the feedback may not be immediate, depending on the instructor's schedule that day, you are guaranteed to get feedback. Participation in the forum is optional.
Will there be assignments?
Yes. They are optional, though strongly recommended. Use the suggested assignments to form a personalized checklist to help you either build the administrative side of your business or level up and improve any of your administrative processes and systems, depending on whether you are using the newbie or veteran assignments for a given lesson.
The newbie assignments are then divided into "out the gate" and "next step" assignments. If you implement the "out the gate" assignments immediately, by the end of the course, you have something set up for each admin task and can hit the ground running.
How long will I have access to the class and forum?
You get lifetime access. So for assignments that will take longer, you can make a checklist of the items you want to work on, then build up your new administrative processes, pieces, and systems over time. Ask for feedback at any point—a week after you finish the course, a month after, or a year after.
What if I want feedback or have a question that I only want the teacher to see?
Feel free to email the instructor at kmchambers@beaconpointservices.org. She is available to all students whether you post on the forum or not.
How can I sign up?
Visit the checkout page to sign up, or click the button below.