Marketing Your Freelance Book Editing Business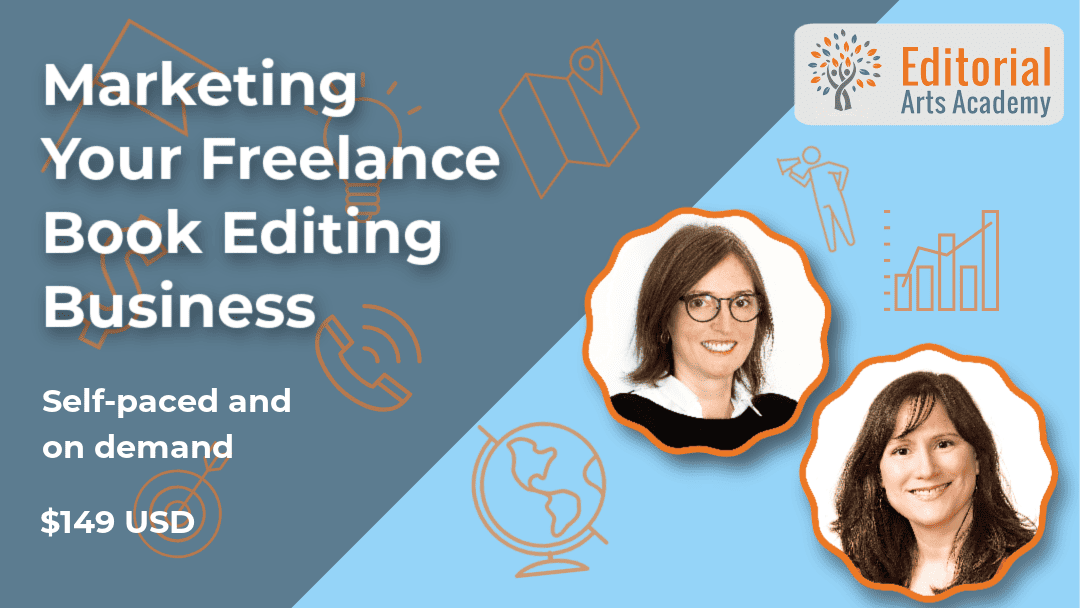 Level: Beginner/Intermediate/Advanced
Designed for freelance book editors who want proven methods for growing their list of self-publishing clients.
Self-paced and on demand
The course's 6 modules course (plus a bonus module) are available on demand. Start anytime; complete on your own schedule.
Price: $149 USD
The 10 lessons (+ a bonus lesson) in this class, as well as several workbooks and our Marketing Survey Report, cover what you need to develop a robust marketing plan for your freelance editorial business. 
Available anywhere with an Internet connection
The class is accessed through EAA's Learning Community, an online platform. Students have forever access.
Get More of the Freelance Book Editing Work You Love
Are you an editor or aspiring editor who's ready and able to work with writers? Do you have a website you like and some systems in place, but nobody's dropping in? We've condensed our combined knowledge from decades as successful freelance book editors into a candid seminar full of strategies and how-tos that will help you find and attract your ideal indie-author clients.
Finding and Attracting Your Ideal Authors
Insights from EAA's  "Survey of Best Marketing Strategies for Freelance Book Editors"

Number one way other editors find authors
Which social media platforms are most effective for marketing
Which writers' groups yield fruitful author connections

How to identify and make the most of your marketing style
3 keys to becoming visible the right way, in the right places
Homing in on who you are, what you know, and who you're for (your niche)
The #1 tip for writing website content that works
Proven strategies that lead to quicker sales
The session ends with a problem-solving Q&A.
What Students Are Saying…
"I really enjoyed this marketing workshop. After taking another of EAA's courses previously, it was nice to have this material presented since it picked up with the marketing … aspect that the skill-building course (rightly) did not have time or space to cover. Thank you so much for running these courses and workshops! I have found more value in the two courses I have taken through EAA than in my post-graduate publishing program!"
"Pat and Susannah brought a wealth of information to [the session]. Their honest, conversational approach … was very helpful and created a welcoming environment. Even though I'm brand new to editing (I even haven't formally launched yet) everything they presented felt doable and many aspects of marketing were demystified. I feel a lot more confident about getting started and I'm excited to put the practices they talked about into action!"
"Susannah and Pat are exceptional instructors and share their research, wisdom, and encouragement generously. I've left feeling simultaneously informed and relieved. Informed about new avenues of marketing to try, how they work, and why they work, and relieved that there isn't one 'most effective' way to market…. I'm excited to start using these tools to cultivate a fertile foundation for my business. Thank you, Pat and Susannah!"
 Pat Dobie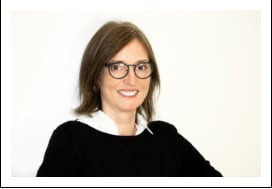 Pat Dobie has been editing fiction and nonfiction professionally since 2010. Her clients have gone on to get agents, achieve traditional publication, self-publish successfully, and win awards. She works only with writers she likes and material she believes in, and closes the sale on 90% of inquiries. Over half of Pat's editing sales come from repeat clients.
Pat combines an MFA in Writing with a strong background in business and project management. She's the author of FICTION EDITING: A Writer's Roadmap.
Susannah Noel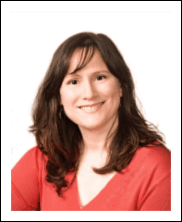 Susannah Noel is a copyeditor and proofreader of trade books with thirty years of experience. She copyedits and proofreads for Big Five publishers and does all stages of editing – developmental, line, copyediting, and proofreading – for indie authors. Susannah is also a marketing expert, having had several in-house and freelance positions as a digital marketer and focusing primarily on SEO, blogging, social media, and email marketing. In addition to her editing work, Susannah runs (and markets) Editorial Arts Academy.
FAQs
When does the course start and finish?
This is a self-paced, on-demand course. You can begin as soon as you sign up, and you have forever access.
Does the course cover any type of freelance editing, or only freelance book editing?
Although Editorial Arts Academy students often take editing work from a variety of sources, all of our classes are for editors working with trade books, that is, fiction and nonfiction books for a general audience. Marketing Your Freelance Book Editing Business is designed for editors who want to work on fiction and creative nonfiction, including memoir. Editors whose niche is platform books (business, how to, wellness, and so on) will also find the course useful.
Is the class for book coaches, beta readers, developmental editors, line editors, copyeditors, and proofreaders?
Yes! Our marketing course will help editors offering any (or all) levels of editing. Check out the 7 editorial roles to see how we define these levels.
Does the course cover working with indie authors AND working with publishers?
The primary focus of the course is how to find and attract indie authors – i.e., authors who are self-publishing. Our lecture and Q&A, as well as most of our workbook, will be aimed at editors looking for projects with this population. However, part of the workbook will address how to find work with publishers.
How is the course delivered?
The course is delivered through EAA's Learning Community. In each of 6 modules (plus a bonus module), you will be led through the material with a recording of a slide presentation and targeted materials that will let you immediately implement what you learn.
What kind of equipment will I need to participate?
You'll need a computer, tablet, or smartphone and an Internet connection.
Who teaches the course?
Susannah Noel, MA, and Pat Dobie, MFA, teach the course. Both are working freelance book editors who've established successful editing businesses. Susannah is also the president of Editorial Arts Academy.
Will there be homework/exercises?
No. This is not a skills-training course, and we don't teach you how to edit, how to create a website, or how to post on social media.
Will the course teach me how to edit?
No. The course does not teach editing skills. It's an informational course that explains effective methods for freelance book editors to attract the clients they want to work with.
Can I expect to get editing jobs as a result of taking this course?
Probably. However, since we don't know your background or skill set, we can't guarantee that taking this course will automatically lead to getting editing jobs. However, if you know how to edit, implementing the strategies and tactics this course teaches will put you in a better position to succeed in your editing career.
If I have experience as an editor, is this course right for me?
If you have experience as an editor but want to expand your client roster and grow your business, this course will give you the information you need to do so.
What does the course cost?
$149 USD.
Is my personal information and credit card information safe?
Absolutely. Please review our privacy policy here.
How can I sign up?
Visit the checkout page to sign up, or click the "Register Now" button below.