Marketing Your Freelance Book Editing Business: Find Authors & Land Clients
Get your editorial business humming, grow a roster of happy clients, and develop long-term relationships with writers you love to work with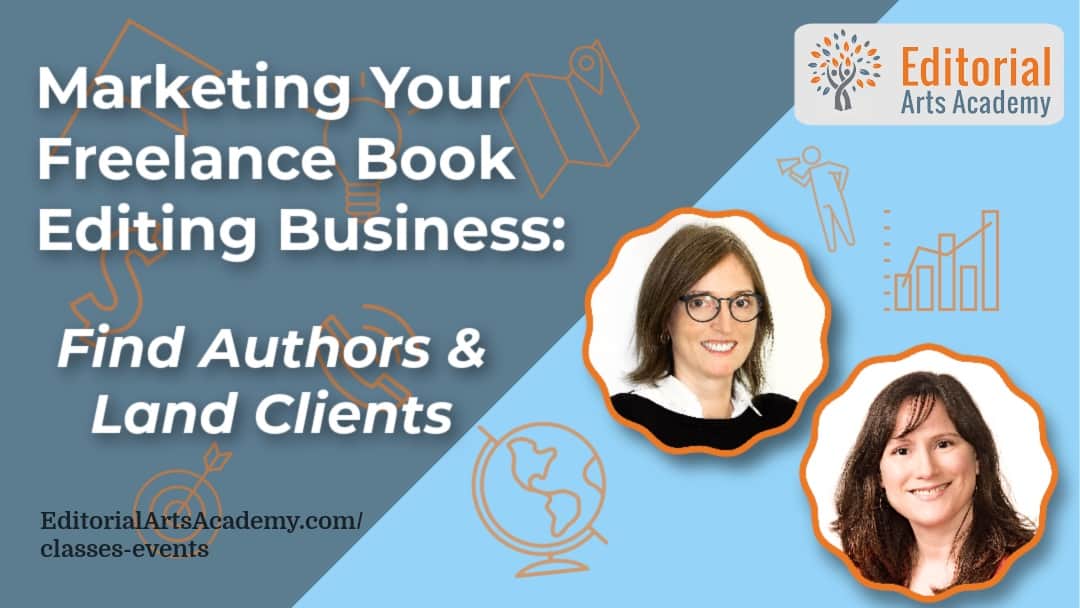 When? Two Wednesday sessions – April 20 & April 27, 6:30–8:30pm ET
Where? Remotely by Zoom
How much? USD $147 
Level: Beginner/Intermediate
Designed for freelance book editors who want proven methods for growing their list of self-publishing clients.
April 20 and 27, 2022, 6:30-8:30 Eastern
Part I on April 20: Finding and Attracting Your Ideal Authors. Part II on April 27: From First Contact to Closing the Sale: Techniques for Success.
Price: $147
You get 4 hours of lectures and Q&A (recorded for later watching), a Slack forum where you can network, full results from our survey about the most effective marketing strategies, and a slew of handouts and supplemental materials.
Get More of the Freelance Book Editing Work You Love
Are you an editor or aspiring editor who's ready and able to work with writers? Do you have a website you like and some systems in place, but nobody's dropping in? Or perhaps you're responding to inquiries and doing sample edits, but you aren't closing enough sales?
We've created this two-part course to solve that problem. We've condensed our combined knowledge from decades as successful freelance book editors into a candid seminar full of strategies and how-tos that will help you find and attract your ideal indie-author clients and consistently close the sale.
Part I: Finding and Attracting Your Ideal Authors
Insights from EAA's  "Survey of Best Marketing Strategies for Freelance Book Editors."

Number one way other editors find authors
Which social media platforms are most effective for marketing
Which writers' groups yield fruitful author connections

How to identify and make the most of your marketing style
3 keys to becoming visible the right way, in the right places
Homing in on who you are, what you know, and who you're for (your niche)
The #1 tip for writing website content that works
Proven strategies that lead to quicker sales
Part II: From First Contact to Closing the Sale: Techniques for Success
How to respond quickly to opportunities
Identifying and removing obstacles to working with you
Creating an onboarding system that builds trust—a step-by-step guide
Keys to closing the sale
Each session will end with a problem-solving Q&A.
Class Information
Here's what you get in Marketing Your Freelance Book Editing Business…
Two Zoom meetings, each session two hours, recorded for forever access
Each session includes a Q&A to get on-the-spot advice
Results of our Survey of Best Marketing Strategies for Freelance Book Editors [report]
Sample client questionnaires and editorial contracts
Onboarding checklist
Red flag checklist
Closing-the-sale checklist
9 Steps to a Powerful Sample Edit [PDF]
3 Ways to Get Work Through Publishers [PDF]
The Book Editors Guide to SEO [PDF]
Final quiz
Post-course workbook to help you execute the strategies you've learned
PDF transcripts of lecture and slides
 Pat Dobie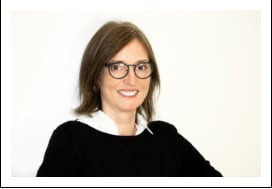 Pat Dobie has been editing fiction and nonfiction professionally since 2010. Her clients have gone on to get agents, achieve traditional publication, self-publish successfully, and win awards. She works only with writers she likes and material she believes in, and closes the sale on 90% of inquiries. Over half of Pat's editing sales come from repeat clients.
Pat combines an MFA in Writing with a strong background in business and project management. She's the author of FICTION EDITING: A Writer's Roadmap.
Susannah Noel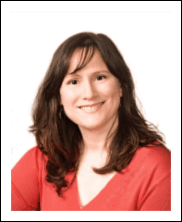 Susannah Noel is a copyeditor and proofreader of trade books with thirty years of experience. She copyedits and proofreads for Big Five publishers and does all stages of editing – developmental, line, copyediting, and proofreading – for indie authors. Susannah is also a marketing expert, having had several in-house and freelance positions as a digital marketer and focusing primarily on SEO, blogging, social media, and email marketing. In addition to her editing work, Susannah runs (and markets) Editorial Arts Academy.
Register Here
Fill out the form below to register.
FAQs
When does the course start and finish?
Part I: Finding and Attracting Your Ideal Authors         April 20, 2022, 6:30-8:30 ET
Part II: From First Contact to Closing the Sale: Techniques for Success         April 27, 2022, 6:30-8:30 ET
Does the course cover any type of freelance editing, or only freelance book editing?
Although Editorial Arts Academy students often take editing work from a variety of sources, all of our classes are for editors working with trade books, that is, fiction and nonfiction books for a general audience. Marketing Your Freelance Book Editing Business is designed for editors who want to work on fiction and creative nonfiction, including memoir. Editors whose niche is platform books (business, how to, wellness, and so on) will also find the course useful.
Is the class for book coaches, beta readers, developmental editors, line editors, copyeditors, and proofreaders?
Yes! Our marketing course will help editors offering any (or all) levels of editing. Check out the 7 editorial roles to see how we define these levels.
Does the course cover working with indie authors AND working with publishers?
The primary focus of the course is how to find and attract indie authors – i.e., authors who are self-publishing. Our lectures and Q&A sessions, as well as many of our supplemental materials, will be aimed at editors looking for projects with this population. However, students will also receive a PDF about how to find work with publishers.
Can I register for just part I or part II?
No. This is a two-part course because we're presenting ALL the information you need to help you grow your client list and fill your calendar. Attracting potential clients is necessary, but without closing the sale you won't make enough money to sustain your business. And without attracting clients, you won't have sales to close!
If I can't attend, will you give me access to the replay?
Yes! After the live sessions you'll receive a link to the recording and can watch it as many times as you like. You'll have lifetime access.
How is the course delivered?
The course is delivered through Zoom, an online video platform. It leads you through the material with slide presentations, live problem-solving Q&A, and targeted materials that will let you immediately implement what you learn.
What kind of equipment will I need to participate?
You'll need a computer, tablet, or smartphone and an Internet connection.
Are transcripts available?
Yes, we will provide transcripts, with slides, of the course.
Who's leading the course?
Susannah Noel, MA, and Pat Dobie, MFA, are leading the course. Both are working freelance book editors who've established successful editing businesses. Susannah is also the president of Editorial Arts Academy.
Will there be homework/exercises?
No. This is not a skills-training course, and we don't teach you how to edit, how to create a website, or how to post on social media. However, you'll take a final quiz to help you see what you've learned.
Will the course teach me how to edit?
No. The course does not teach editing skills. It's an informational session that explains effective methods for freelance book editors to attract the clients they want to work with, and then fill their editorial calendar (whether full-time or part-time) by closing the sale.
Can I expect to get editing jobs as a result of taking this course?
Probably. However, since we don't know your background or skill set, we can't guarantee that taking this course will automatically lead to getting editing jobs. However, if you know how to edit, implementing the strategies and tactics this course teaches will put you in a better position to succeed in your editing career.
If I have experience as an editor, is this course right for me?
If you have experience as an editor but want to expand your client roster and grow your business, this course will give you the information you need to do so.
What does the course cost?
$147.
Is my personal information and credit card information safe?
Absolutely. Please review our privacy policy here.
How can I sign up?
Easy! Just fill out the form below.
Register Here
Click the button below to register.