In Part 1 of "Can Social Media Help Book Editors Get Work?," we explored the benefits of being active on social media and which platforms can be the most fruitful for growing your client base.
Now that you know which platforms to be on, what to post, and best practices, it's time to dig in to the nitty-gritty of how and where exactly editors can get work on social media. There are two categories here: platforms and groups where you can find potential clients, and places where you can get to know other editors and learn about your craft, both of which can also lead to more clients!
To gather data for this post and our upcoming marketing class for book editors, we surveyed successful editors and recent graduates of our Editorial Arts Academy classes. We wanted to know (among other things) how social media has helped them find clients. We found out their favorite and most lucrative platforms and gathered lots of links so you can jump in right away (and we mean lots of links).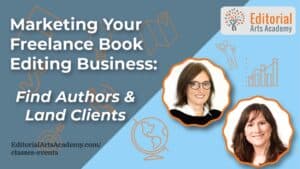 Susannah Noel and Pat Dobie will teach Marketing Your Freelance Book Editing Business: Find Authors & Land Clients. Held on April 20 and 27 by Zoom, this class will show you how to connect with indie authors and then win their business. They will share strategies, best practices, and supplemental materials, including results from a recent survey about marketing best practices. Learn more and sign up for the marketing class. 
Facebook Is Number One for Book Editors
Facebook ranked #1 on our survey as the most popular social media platform for editors to get work (by far). As a result, this is where we're going to focus in this post.
Here's how some working editors used Facebook to make connections and build their portfolios.
"I met K, a successful editor, through an editors' group on Facebook, and eventually, she subcontracted a project to me. The client was a successful author, well-loved in her genre. K was her regular editor, but she had scheduling conflicts. Another successful author, C, who wrote in the same genre, saw my name in the acknowledgments of the book I'd edited, and C eventually passed my name along to her friends. This enabled me to build my portfolio." — Anonymous
"An author I follow on FB sent out her reader magnet novella to followers, with the note that it was unedited. That planted an idea in my mind, and I offered to edit it for her in return for recommendations. She agreed, immediately added me to different author groups, and started sharing my name and email with other authors who were searching for an editor. I joined other genre-specific writers groups, responding to requests posted in them. From these combined efforts, I got three return clients, another who will probably become a return client, and a few short-term clients, all solely through FB. It has been great for me!" — Lida Sophia Townsley 
"I once saw a post in a writing group on Facebook that was written by someone with the same name as me. I had a moment of panic, thinking I had written the post and forgotten about it, but when I realized it was someone else, I commented on the post. We connected and she became my client and also sent other clients my way! It just shows you that you don't always have to sell. You can get clients by connecting over things you have in common." — Catherine Turner
Facebook has a plethora of pages and groups (a TON of groups!) where you can not only learn about the industry, but also connect with other editors and authors to get your business going. Our recommendation is to join or follow as many as possible, see which ones work the best for you, and then narrow your focus to those two or three.
By a wide margin, the best online directory for book editors to find work is the Editorial Freelancers Association. Follow their Facebook page to learn about all the latest happenings and consider joining their organization. Their website is a great place to learn more about the editing industry and find resources for continued education.
Facebook Groups We Recommend 
From our survey and by polling editors informally on social media, we've developed a list of Facebook groups where editors have had marketing success. These are in no particular order. Some are groups for certain genres of literature, such as Fantasy Writers Forever. Others are general groups for writers, or groups for writers to get help from editors. Still others are groups of editors. Participating in any of these groups has the potential to increase your network with potential clients or other editors, who might send potential clients your way.
This may seem like a lengthy list, but it just scratches the surface! Search Facebook for groups that suit your genre, like fantasy, thriller, romance, sci-fi, memoir, etc. Commercially popular genres will have several groups to sift through with many great communities to join.
And for editors that are also writers, we can't say enough great things about Masterclass.com. Not only do you get to take invaluable courses from writers like James Patterson and Malcolm Gladwell, but after you've completed the course, many have private Facebook groups with hungry new writers just dying to publish their first book!
General Benefits of Social Media for Book Editors
Social media can serve many purposes in your career as a book editor, but most importantly, a well-maintained social feed positions you as an authority in your field. Not only does it help editors make connections, but engaging content can pull prospective clients in and give them confidence in choosing you as their editor. Participants in our survey echoed those sentiments in their experiences with social media. They've made friends, received referrals, and joined groups that have been vital to building a solid business.
"I don't chat directly to authors, but I post content that engages people and links to my website. My website then converts. So, it's hard to know exactly which platform(s) people are coming from." — Anonymous
"I've had a lot of work because of referrals from other editors, and I met those editors through social media. You may have noticed that I'm on Facebook and Twitter quite a lot! That's because I enjoy them, and I'm terrible for spending too much time online, but also because social media networking has been genuinely a really good strategy for me. I hang out in editors' groups, and I make friends that way, and those friends refer clients to me when they can't fit them in or they're not the right fit. One such referral led to doing a few books for a publisher, which was wonderful as it was steady work that gave me the confidence and security to be more selective about the indie clients I took on." — Kia Thomas
Follow High-Profile Social Profiles in Your Niche
If you're overwhelmed by the vastness of resources and potential connections on social media (and who isn't?), ease into it by following authors and publishers in your niche. For example, if you're a fan of speculative fiction, you could "like" Tor Books on Facebook and N.K. Jemisin on Twitter.
I also recommend that you follow the big names to make sure you're part of the conversation, or at least know what the conversation is about. Keep up with the latest in the industry, and make sure you comment! If you frequently engage, it's an easy way for people in the biz to become familiar with your name. Here are a few of our favorites.
A Word on Bidding Sites for Book Editors
While bidding sites might not be the easiest way to get good-paying work, they're not a bad place to start. Reedsy, Upwork, and Fiverr are definitely the most popular and have a fairly good track record for editors. (Before you spend your time trying to get on to Reedsy, however, check out their basic requirements for publishing professionals.) And if you commit to the sites for an extended period of time and get a lot of good reviews, you can raise your rates to a more standard amount.
Get Ready to Dive In
Since there are so many links here for you to choose from, go ahead and start researching. Join or follow ten to twenty of the groups we've posted and see how they're helping you. Whether it's through learning more about the industry or making valuable connections, establishing yourself as a book editor on social media will be an integral (and fun) part of your career!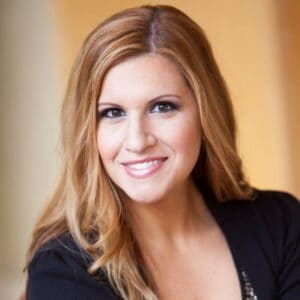 Alison Lukin has been a freelance writer for over seventeen years with clients ranging from marketing firms to yoga teachers. Her career began in music journalism, doing interviews with artists like Maroon 5 and Jason Mraz, countless concert reviews around NY and NJ, and eventually writing over 300 published articles. 
She started her social media management agency, Officially Social, in 2018 and manages approximately ninety social accounts. In addition to blogging and newsletter services, they work hard to help businesses spread the word and grow. With over 90K followers collectively, Alison strives to help people tell their stories both online and in print.