Editor's Note: This post was written by social media professional and editor Jamie Johnson, an account manager at Officially Social.
In recent years, social media has changed the landscape of the writing industry, paving the way for freelance book editors to make their mark through networking and collaborating. Book lovers have found community and even made careers out of simply sharing their love of words, which explains why the hashtag #bookstagram has appeared in over 90 million posts!
Whether you're new to book editing or looking to expand your network of edibuddies, chances are you've considered using social media to build your business. And it's a great idea—the average American spends a whopping 127 minutes on social media daily.
But there's a problem with using social media professionally: It takes time. Freelance book editors are busy editing, running their editing business, and experimenting with ways to market their editorial services.  Carving out dedicated time for social media is a real struggle for many small business owners, particularly freelancers.
Is there a solution?
Introducing Custom Social Media Calendars for Editors
What if there were an inexpensive, yet effective way to have custom content done for you, freeing up space for more pressing tasks? Allow us to introduce you to Officially Social Content Calendars.
Officially Social now offers editing-specific content calendars that are detailed and engaging. You'll get complete posts that include everything, like images, links, text, tags, and even hashtags. All you need to do is copy the content and post it on the platforms of your choice.
It's custom content without the custom price tag.
How Do the Content Calendars Work?
We created these calendars so freelance book editors could have access to robust content for their social media accounts that did NOT feel canned. Here's how it works:
Subscribe to the calendar that suits you—a 3-, 5-, or 7-day-per-week plan.
After creating a username and password, you'll log in to your account to view an entire month of posts at a time.
Simply copy/paste the text and download the graphic for whichever platform(s) you choose. You can use the post as is, or customize it for your business. Add your business name and logo for a more custom look.
Paste the content directly into your social accounts, or use a scheduler. We like Social Champ, but there are plenty of other free schedulers to choose from.
What's included in your subscription?
Posts for 3, 5, or 7 days a week, depending on the subscription you choose.
COMPLETE posts! They include a caption, hashtags, links, tags, and images.
Articles to share, fun facts, industry holidays, trivia, professional humor, #booktok videos from TikTok, seasonal posts, and lots of great educational content that will keep authors engaged.
Are the images sized for each different platforms?
All images are png square, so they're suitable for multiple platforms.
Are the hashtags specific to each platform?
We include anywhere from 8 to 12 (or more) hashtags per post. If you choose, these can be adjusted for each platform, but you don't need to. They're all generic enough to work across the board.
Where can I find out more?
–> Check out this blog post on the Officially Social site: What's a Content Calendar–And Does Your Business Need One?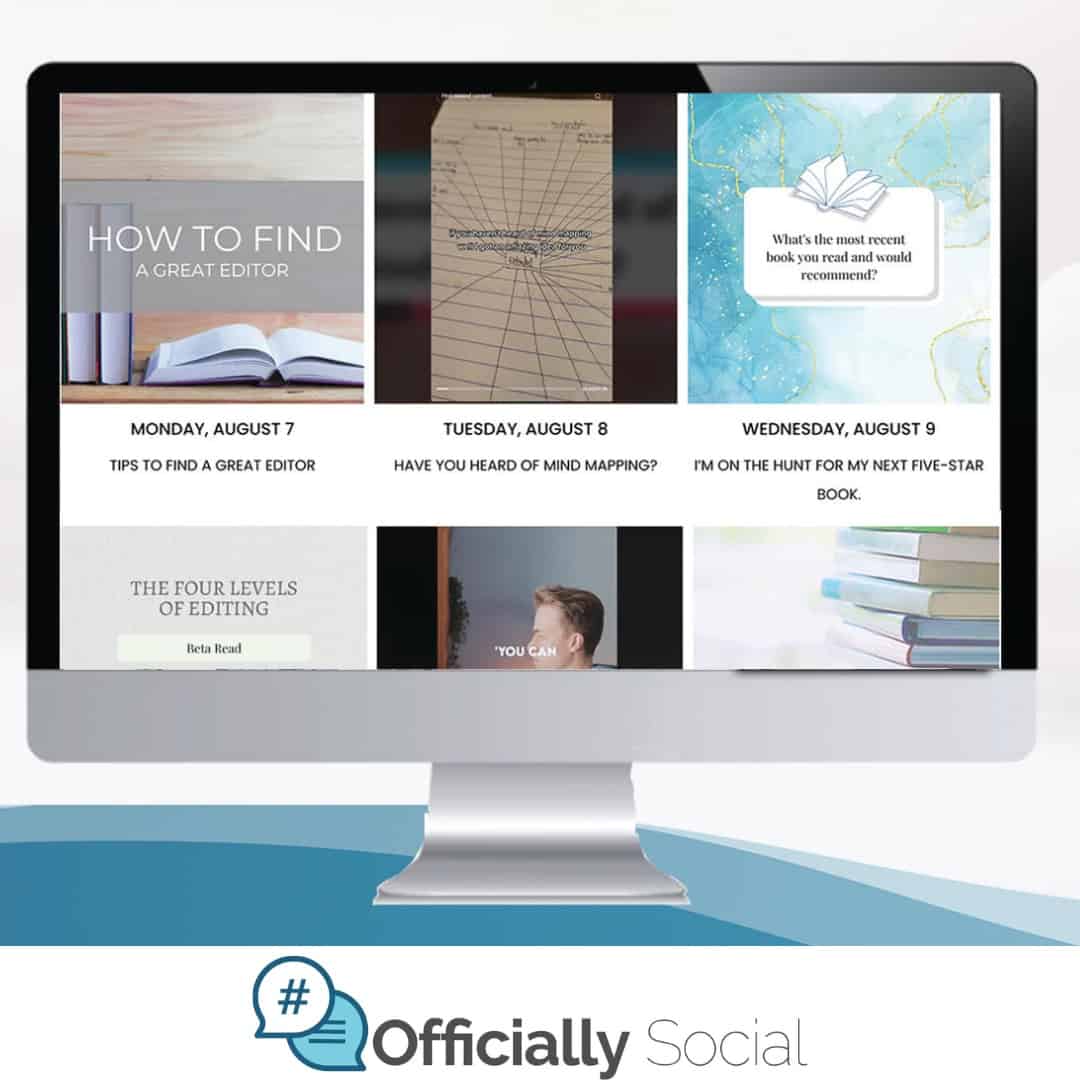 Crafted with Input from Editorial Arts Academy
Rest assured, these calendars are not your typical, boring, canned content. From start to finish, our posts are designed with your editing business in mind. 
We've partnered with Susannah Noel at Editorial Arts Academy to develop relevant, timely posts for editors. Susannah has been a freelance editor for decades, and she's worked with hundreds of editors and authors. Together, Officially Social and EAA bring you thoughtful and engaging posts. They can either be used alone, or mixed with content you're already sharing.  
And we never, ever use AI to create our posts!
Let Officially Social's Content Calendars help build greater awareness (and revenue) for your editing services with targeted, engaging posts tailored to the wide and growing world of book authors. Your social media profiles will look cohesive, polished, and professional, setting you apart from other editors.   
Get 20% Off
Use code EditorsRule to get 20% off your first month, regardless of which plan you choose.
How Do I Sign Up?
To learn more about our monthly subscriptions and preview our calendars, visit officiallysocial.com, or click the button below [affiliate link].
About Jamie Johnson
Jamie has always possessed a love for reading and writing, so it was an easy decision to turn that passion into a career. After 10 years as a middle school Language Arts teacher, she took some time off to raise her growing family. It wasn't long before she was ready for a new creative outlet, and in 2019 she joined the team at Officially Social.
Jamie enjoys the fast-paced world of social media and working with clients to help grow their business and brand. She's also experienced in blogging and editing, and considers herself a Google Ninja. Jamie has taken courses in copyediting through Editorial Arts Academy and is excited to continue her studies of this craft.
She lives in Randolph, NJ, with her husband, three children, and spunky black lab. When not working, you'll find Jamie engrossed in a good book or enjoying a strong cup of coffee. She can be reached at jamie@officiallysocial.com.