In the early 1990s, my lifelong fascination with language rules was transformed into a rewarding side hustle copyediting academic journals. Over time, I took on projects with trade publishers and began editing fiction and nonfiction books. My other careers waxed and waned, but my side hustle remained constant. I edited books like Chicago by Brian Doyle, The Collapsing Empire by John Scalzi, and Love Warrior, by Glennon Doyle. I sometimes left in-house work altogether and edited full-time.
Although I'm not a bookworm, I've read hundreds of books over the years because of my copyediting – books I might have passed over in the library. Every book I've read has changed me. It's been a true gift.
The Heart (and Art) of Copyediting
Through it all, I've reveled in my knowledge of language rules. I am known in my family for my obnoxious habit of correcting word choice and errant commas. I have emotional attachments to semicolons and small caps, and one of my favorite things is meeting other people who do too, and helping them discover the world of freelance book editing.
But that's not why I'm offering Copyediting Fiction and Nonfiction Books: Principles & Mechanics.
Nearly thirty years ago, the first book I read about editing was Copyediting: A Practical Guide, by Karen Judd. In it, she writes,
"All the grammar rules you learned in school, all the information you have at your fingertips, are useless unless you know when to look up something, when something seems questionable, when something was treated differently 200 pages earlier." (pp. 1–2)
I've learned that this observation is far more relevant to the copyeditor's concerns than are the various rules. And, I would add, copyeditors need to know when it makes sense to change what the author has written down. Learning the rules can't teach you any of that.
This is why Copyediting Principles & Mechanics is not only about the rules. We study the rules, of course, in the "mechanics" part of class. As you'll see from the class tour below, each week we focus on a different area of the mechanics of the trade. But equally important – or even more important – are the discussions of the principles of copyediting. We address questions like:
What is style, and how do you discern it?
When do you query, and what's the best tone to take with the author?
What do you put in the style sheet?
How do you develop editorial judgment?
These types of discussions make up the "principles" portion of the class.
Differences Between Our Copyediting Course and Others
I've copyedited all types of materials over the years (scientific journal articles, social science workbooks, annual reports, websites), and I've found the deepest satisfaction comes from editing trade books. That's one of the two differences between our class and the other myriad copyediting classes available: this one focuses only on the types of books most people read for pleasure.
The second difference is that we don't divide up our classes into beginning, intermediate, and advanced. Instead, we provide all the information you need to begin your editing career in one six-week course.
If you want more practice, you can continue learning with us through Copyediting Fiction and Nonfiction Books: Practicum. But Principles & Mechanics will lay the foundation for your editing future, whether you continue your studies with Editorial Arts Academy or strike out on your own. This makes it both more affordable and more efficient than other copyediting courses.
Course Promise
Copyediting Fiction and Nonfiction Books: Principles & Mechanics will teach you enough about copyediting as a profession and enough copyediting skills to build a freelance business as a copyeditor of fiction and nonfiction books.
Take the Tour
Copyediting Fiction and Nonfiction Books: Principles & Mechanics is taught live over Zoom in six weekly lessons. Students learn through lectures with accompanying PowerPoint slides; discussion and Q&A; homework and editing exercises; a variety of samples, checklists, and templates; videos demonstrating how to use Microsoft Word and Track Changes; and a 24/7 Slack forum. 
The class is divided into principles and mechanics. Our lectures cover the principles, and students study the mechanics in their weekly homework. At the beginning of each class, we go over the homework from the previous week (including editing exercises), giving students a chance to reinforce what they learned about hyphenation, punctuation, capitalization, numbers, and other rule-based information. For the homework/self-study portion of the class, The Chicago Manual of Style 17th edition is required.
Here's a week-by-week tour of the class contents.
Week 1: What Does a Copyeditor Do?
Lesson 1.1: "Copyediting and the Editorial Process." After introductions, we go into how copyediting fits in to the editorial process and who copyeditors typically work with, in both traditional publishing and self-publishing.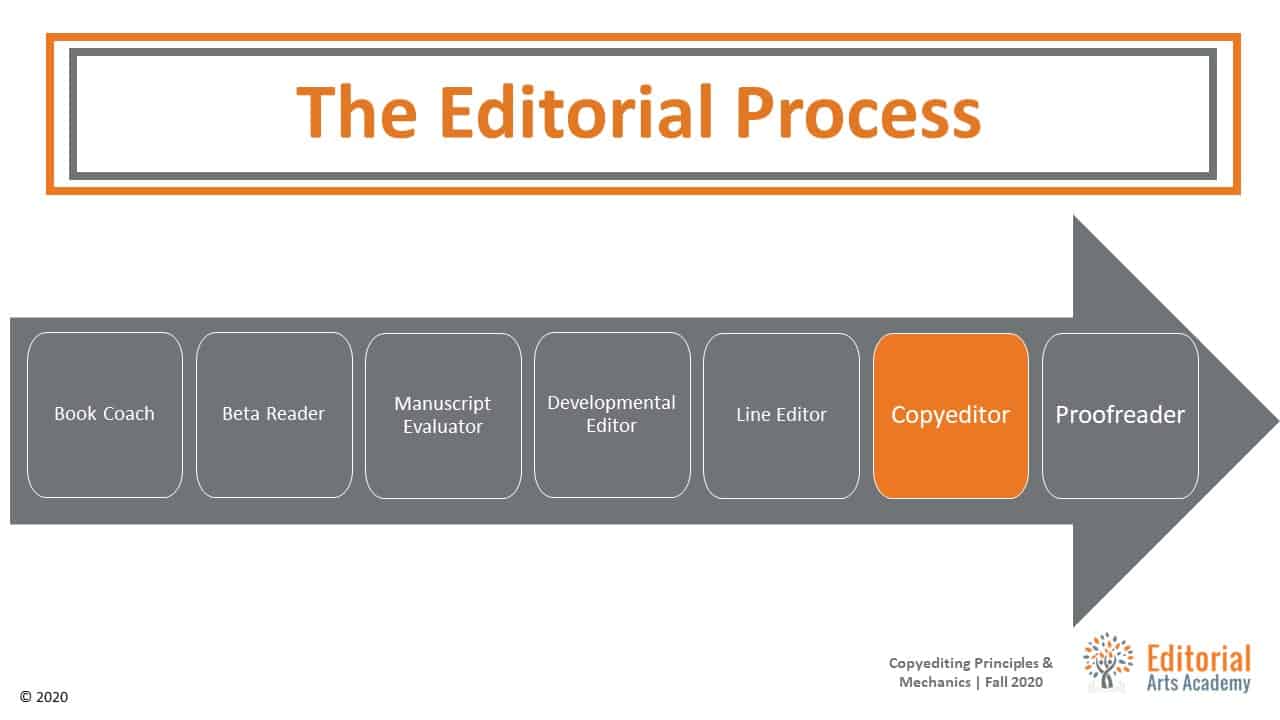 Slide from Lesson 1.1, Copyediting and the Editorial Process
Lesson 1.2: "The Copyeditor's Tasks." We discuss what a copyeditor does and doesn't do, and how copyediting differs from line editing and proofreading. We also go over fiction vs. nonfiction and how an editor's approach might differ between the two.
Lesson 1.3: "Tools of the Trade." Copyediting symbols, Track Changes, style sheets, queries – these make up the copyeditor's tools, and I introduce you to each.
⇒ Homework/Self-study: Punctuation
Week 2: Mastering Technology
Lesson 2.1: "Microsoft Word and Track Changes." I show you the basics of Microsoft Word and its editing program, Track Changes.
Lesson 2.2: "Typecoding and Styles." Copyeditors sometimes need to know how to prepare a manuscript for formatting and typesetting, and I explain how to do so through typecoding and Word styles.
Lesson 2.3: "Tools, Add-ons, and Macros." I present the various programs that make copyeditors more efficient, such as Perfect-It and Paul Beverley's macros.
⇒ Homework/Self-study: Spelling and Hyphenation
Week 3: The Elements of Style (and Style)
Lesson 3.1: "Two Types of Style." Style is a confusing term in editing. We talk about editorial style versus literary style and why the differences matter.
Lesson 3.2: "The Hierarchy of Style Authority." Because there is no single authoritative source of style rules (if only!), we go over your options and which rules beat other rules.
Lesson 3.3: "All About Style Sheets." Copyeditors are responsible for creating style sheets. I show you what goes in a style sheet and how to create one. We also touch on conscious language and what it means to edit with disabilities, race, sexual orientation, and other marginalized experiences in mind.
⇒ Homework/Self-study: Capping/Italics/Quotes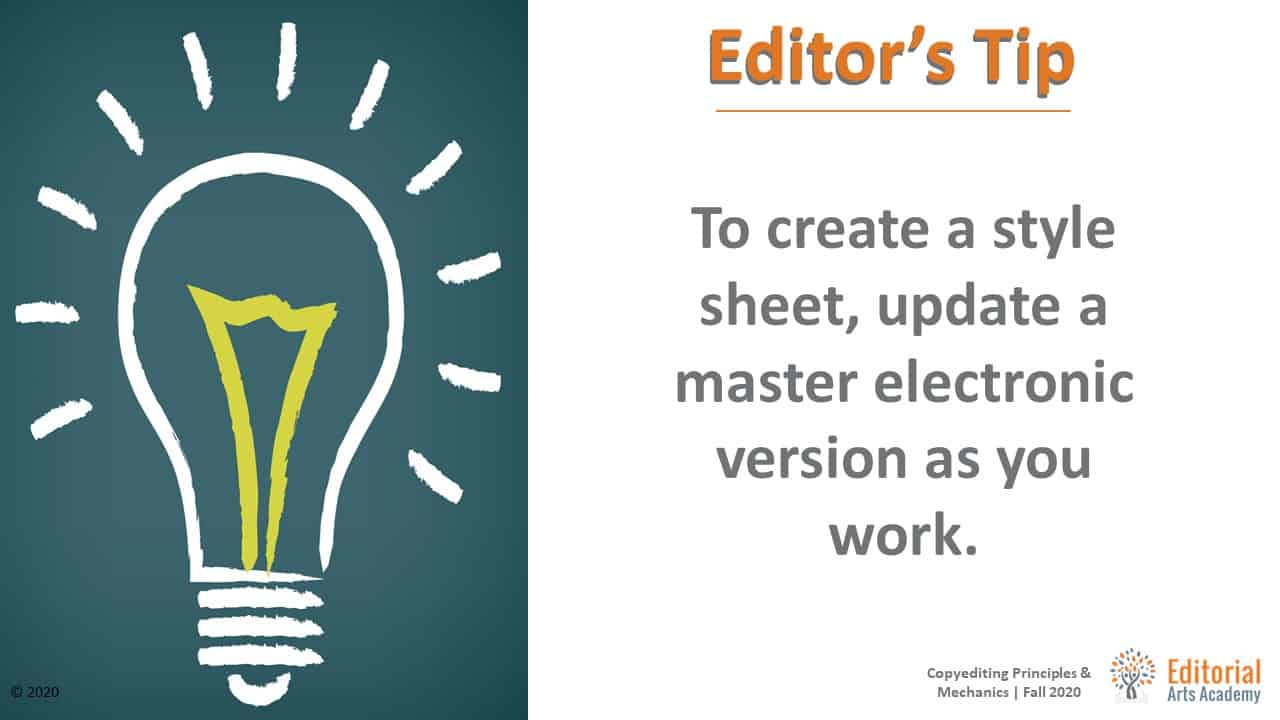 Slide from Lesson 3.3, "All About Style Sheets"
Week 4: Into the Weeds We Go!
Lesson 4.1: "Fact-checking." Copyeditors are often responsible for verifying dates, spelling of place-names, and other objective information. I show you what requires fact-checking and how to do it quickly.
Lesson 4.2: "Continuity and Consistency." Perhaps even more important than rules, continuity and consistency – in character traits, spelling, the way commas are used, and so much more – are vital features of a high-quality book. Copyeditors must learn to spot inconsistencies and which ones to query, and I explain how.
Lesson 4.3: "Permissions." What's the one type of copyrighted material it's almost never worth including in a book? I tell you, and we go over the rules for when to get permission to reprint others' work.
⇒ Homework/Self-study: Numbers
Week 5: When Rules Fall Apart
Lesson 5.1: "The Art of Copyediting." How do you know which rules to ignore and which are ironclad? That's where the art of copyediting comes in, and we explore it in this lesson.
Lesson 5.2: "Editorial Judgment." Over time, copyeditors get a feel for which errors to stet and which to fix. We consider how to develop editorial judgment, and how applying this judgment changes your editing.
Lesson 4.3: "What and How to Query." A query is a comment or question left for the author in the margin of the manuscript. We talk about what requires a query, and how to write queries that are authoritative but respectful.
⇒ Homework/Self-study: Grammar I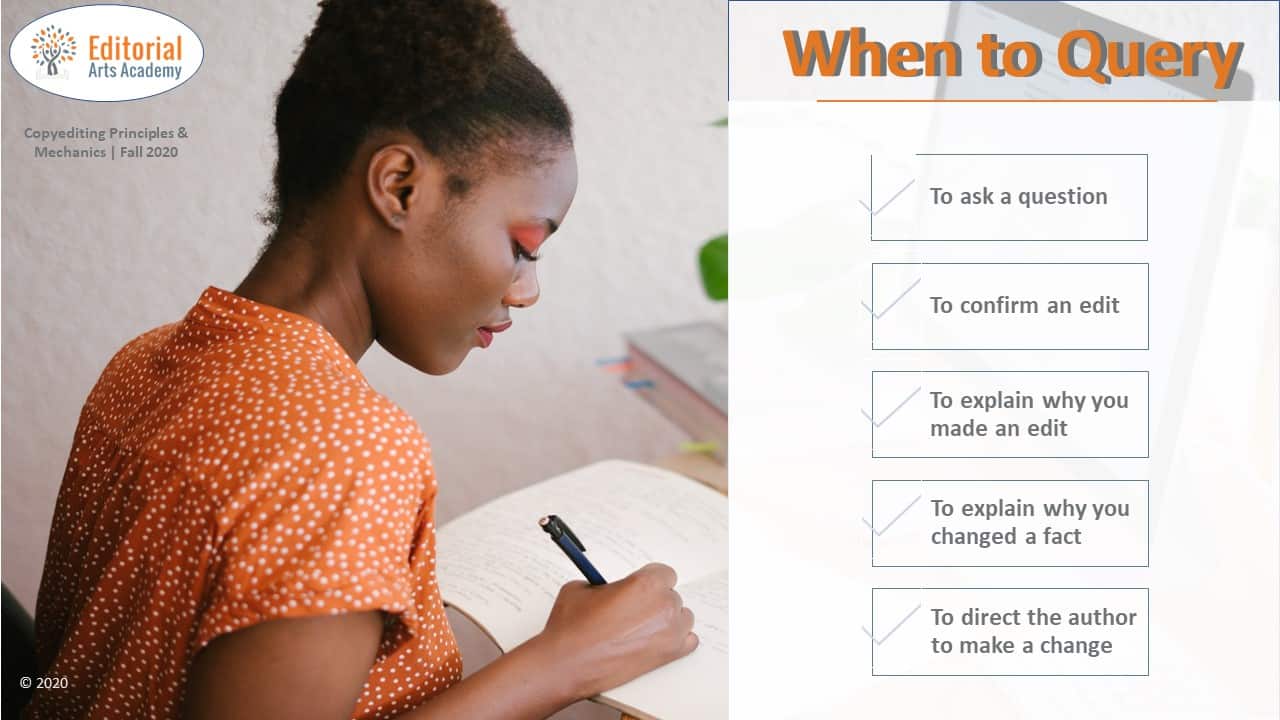 Slide from Lesson 4.3, What and How to Query
Week 6: Insider Tips for the Happy Copyeditor
Lesson 6.1: "Finding Work." I share my tips, gleaned from over twenty years as a freelance editor, for how to find freelance editing gigs.
Lesson 6.2: "Getting Paid." How much can you make as a freelance book copyeditor? We look at the going rates and work out yearly income using a variety of examples.
Lesson 6.3: "Insider Tips." We cover the many additional factors that go into your freelance life other than the work itself: time management, money management, physical effects, paying taxes, and so on. I pass along what I've learned over decades of freelancing to help you be a better freelancer!
⇒ Homework/Self-study: Grammar II
Student Forum on Slack
The best moments of any class seem to happen during freewheeling discussions – and we didn't want to limit that to class time! Students will have access to a class forum on Slack where they can ask whatever they want, whenever they want. Get guidance and brainstorm ideas with your instructor and your fellow students.
Plans for Future Copyediting Intro Courses
We are in the process of moving the content of this course into a self-paced online offering. Stay tuned!