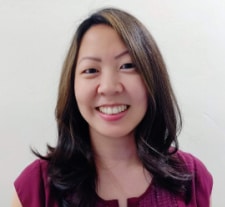 Editor's note: This is a Q&A with editorial professional Crystal Shelley. Crystal is the owner of Rabbit with a Red Pen, where she provides editing and authenticity reading services to fiction authors. Drawing on her background as a social worker, she unites her love of language and her passion for social justice by pushing for writing and representation that is more dignified, intentional, and just. She is the creator of the Conscious Language Toolkits for Editors and Writers, serves on the board of ACES: The Society for Editing, and is an instructor for the Editorial Freelancers Association. When she's not working with words, she's probably swearing at a video game. Connect with her on Twitter, Instagram, and LinkedIn. 
20% Off the Conscious Language Toolkit for Editors
Crystal Shelley's toolkit is a guide for editors who want to edit with conscious language in mind. Use the code edartsacademy to get a 20% discount on this excellent tool.
How did you become interested in conscious language issues?
For as long as I can remember, I've been cognizant of how language can empower or harm. This made me mindful of the language I used and aware of what others said, sometimes leading me to speak up in social circles to educate others or encourage them to reconsider language that's harmful (which is still a big deal for me because I hate ruffling feathers or being in potentially confrontational situations). At times that would lead those around me to call me the PC police, and political correctness was the only term I knew of for it too. 
Then I came across Conscious Style Guide. I loved learning about Karen Yin's conscious language framework and her idea that using intentional language isn't about policing but about critical thinking and compassion. I started to incorporate conscious language into my editing business (both in the work I did and talking about it), and I've never looked back.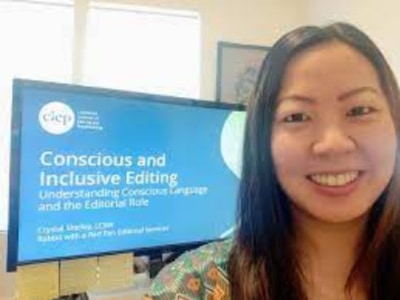 Crystal Shelley after presenting on conscious language and editing to the Chartered Institute of Editing and Proofreading in 2021. Source: rabbitwitharedpen.com.
Is there something you've learned in the past couple of years that's really surprised you?
I'm pleasantly surprised by how receptive people often are to learning about the effects of language. I know there are plenty who are resistant or opposed to examining or changing language, but it feels like more and more people are prioritizing making language more respectful. That has led to changes at organizational levels too. A publisher I freelance for created an extensive set of inclusive language guidelines, which is great to see.
I also didn't realize how much of the language commonly used in US society is ableist until I started listening to disabled activists. This realization led me to write a blog post about ableist language and why it's important for nondisabled people to change their language even if it doesn't affect them directly.
What do you wish people understood about using more conscious language?
I wish that people understood the fact that being more mindful and respectful with language is an act of empathy and allyship. We are often more willing to act when we recognize how language affects us or our communities, such as stopping our use of that language or speaking up when others use it, but we can be more reluctant to change or say something when that language doesn't affect us. If we want others to understand how language might be harmful to us, we should strive to understand how language might be harmful to them.
Also, I hope people understand that language is just a small part of the greater equation. The ultimate goal is to achieve equity for every person, no matter their social identities, life experiences, or income bracket. But compassionate language can influence perceptions and policies and help create a more just world.
Have you seen any situations that showed you the importance of paying attention to these issues?
One somewhat recent situation was when Roe v. Wade was overturned. Most of the reporting and general conversation was about how women would be affected by the ruling, but that language excludes others who can become pregnant, such as trans men, nonbinary people, and cisgender girls. Making language more inclusive would not have erased the experiences of cis women, but it would have sent a message that people recognize and care about the fact that a monumental change would affect more than the group usually centered in conversations about pregnancy.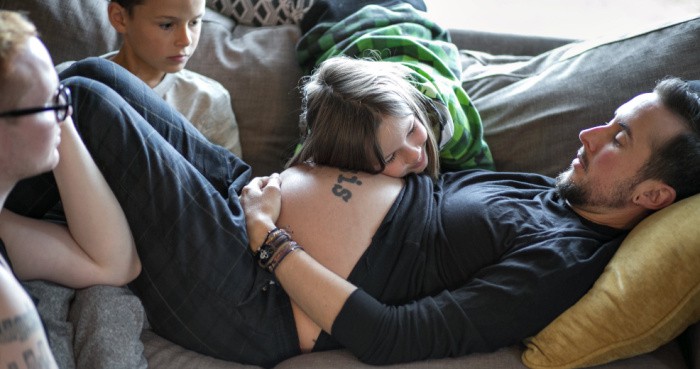 Do you ever find yourself using terms you realize you shouldn't have? How do you deal with that?
I absolutely do. It's humbling and a reminder that I'm always learning. If someone has brought an issue to my attention, I thank them. If I've done harm, I apologize. That sounds easy on paper, but knowing I've made a misstep or worse can be tough to handle. No matter how I feel, though, I know that I need to keep growing and commit to doing better.
How would you characterize the tone you take with authors about these issues? 
I strive to make my comments explanatory, objective, and professional. I explain why the author may want to reconsider their language and will often normalize how common its usage is, then offer alternatives to try instead. I do my best to not let my own feelings come through. At most, I might say that I "strongly recommend" changing something if it's particularly harmful.
I realize I've flagged less over time rather than more. I used to see a word I thought was problematic and flag it every time, but that was without actually assessing the context and intent of the term. Now I'm more discerning as I work.
What advice do you have for people who want to use more conscious language?
I recommend checking out the many resources out there about using language that's more respectful and dignified, particularly those written by organizations directly affected by the language. Some places to start are Conscious Style Guide (various topics), APA's bias-free language guide (various topics), the GLAAD Media Reference Guide (LGBTQ+ people), the Trans Journalists Association style guide (trans people), the Language Project by the Marshall Project (incarceration), and the National Center on Disability and Journalism style guide (disability).
I also encourage people to think beyond what's written on paper. It'd be nice to be able to consult a list to figure out what's okay and not okay to say in all situations. But a list isn't going to cover every single potentially problematic term out there, and it also doesn't take into account context, intent, or the ever-changing nature of language. Ask whether a term or phrase is inadvertently disrespectful, dehumanizing, inaccurate, biased, exclusive, or judgmental rather than only thinking, Is it on this list of problematic terms? No? Okay, we're good.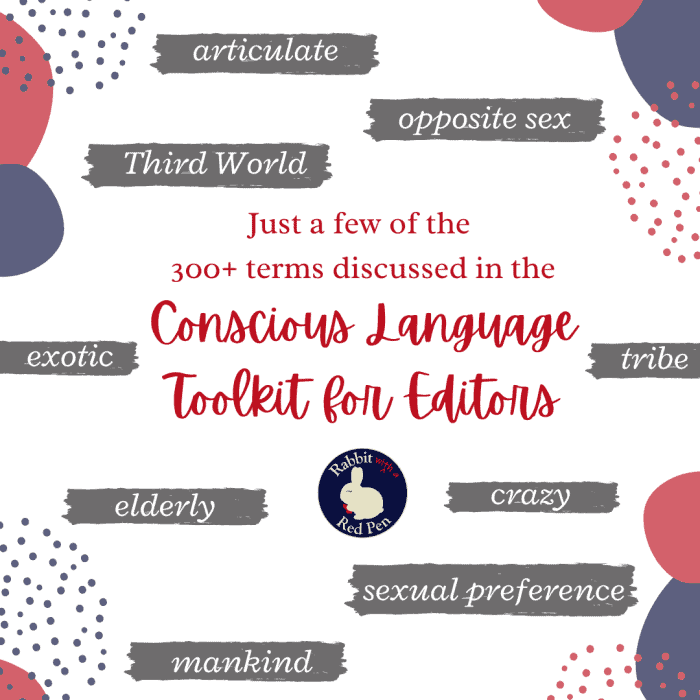 Get 20% off Crystal Shelley's Conscious Language Toolkit for Editors using the code edartsacademy. Shop here.