Copyediting Group Mentorship: Domestic Thriller
Practice your copyediting skills on a book-length domestic thriller manuscript with a small group and an experienced mentor.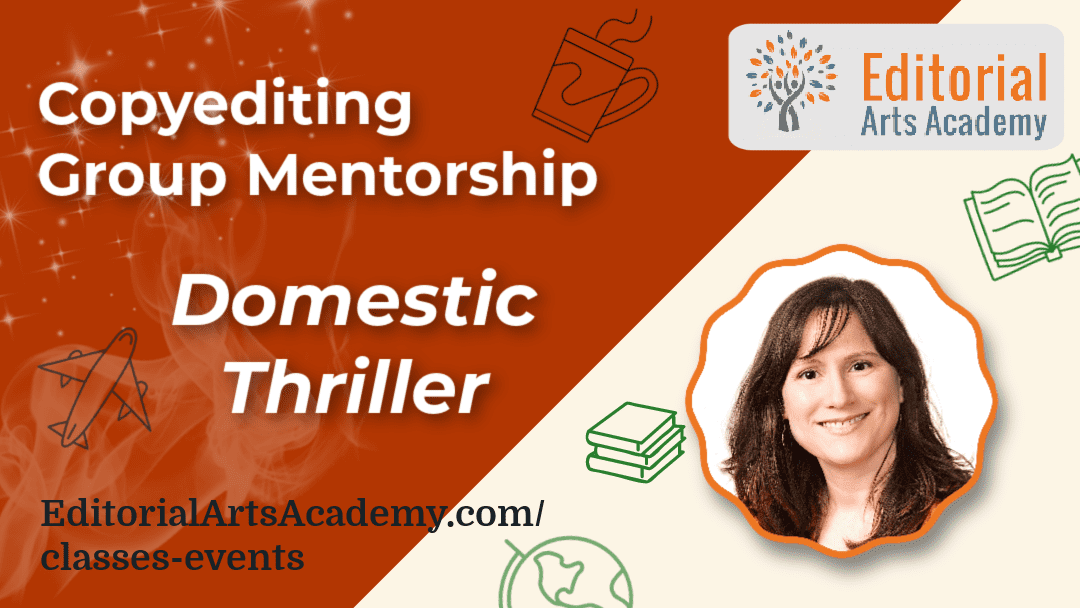 When? Six Tuesday sessions – June 28, July 5, 12, 19, August 2, 9, 6:30–8:00pm ET
Where? Remotely by Zoom
How much? USD $199
Level: Intermediate
Designed for freelance book copyeditors who want to hone their skills and get personalized feedback on their editing from an industry professional.
Six Tuesdays, June 28-August 9, 2022, 6:30-8:00 Eastern
We'll meet by Zoom six Tuesdays, June 28 – August 9, with one week off (July 26). 
Price: $199
You get an 80,000-word manuscript, 9 hours of small-group discussion and Q&A with your mentor (recorded for later watching), a Slack forum where you can drop your editing questions 24/7, and graded feedback on your editing.
Practice Your Copyediting Skills with a Group Mentorship
Have you ever wished you had an experienced editor who could look over your copyediting and tell you if you're on the right track?
Do you like the sound of a small group of other copyeditors who care about semicolons as much as you do?
Do you want to gain experience with book-length manuscripts before hanging out your shingle as a freelance book copyeditor?
We designed this copyediting mentorship to give you a chance to work slowly through a manuscript, ask all your questions, learn about the details you'd only know when working on a real book, and get graded feedback from a highly experienced industry professional.
Class Information
Here's what you get in the Copyediting Group Mentorship: Historical Fiction…
Students will complete a copyedit of an 80,000-word domestic thriller novel and create a style sheet.
We'll have six weekly meetings by Zoom

for 90 minutes to go over the editing.
Meetings will be recorded so you can watch the playback if you miss a class.
Every week, the instructor will send her edits on that week's portion of the edit so students can compare their work to the instructor's.
There will be a

 

Slack forum

 

where we can share our editing process, questions about the manuscript, pictures of cats, etc.
Students will have forever access to copyediting class libraries loaded with resources, templates, and checklists.
We'll meet in small groups of no more than 10 students, so we have plenty of time for discussion.
You'll get graded feedback on your editing that reveals exactly which areas you need to work on further.
Susannah Noel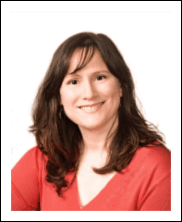 Susannah Noel is a copyeditor and proofreader of trade books with thirty years of experience. She copyedits and proofreads for Macmillan, Penguin Random House, and indie authors. Recent titles include Playing with Myself, by Randy Rainbow, Olga Dies Dreaming, by Xochitl Gonzalez, and The Matchmaker's Gift, by Lynda Cohen Loigman. In addition to her editing work, Susannah is the cofounder and president of Editorial Arts Academy.
Register Here
Fill out the form below to register.
FAQs
When does the course start and finish?
The course runs on six Tuesdays, from 6:30 to 8:00pm Eastern, June 28, July 5, 12, 19 [week off July 26], August 2, August 9.
If I can't attend one or more of the sessions, will you give me access to the replay?
Yes! After the live sessions you'll receive a link to the recording and can watch it as many times as you like. You'll have lifetime access.
How is the course delivered?
We meet by Zoom, an online video platform.
How much time will I have to edit the manuscript?
We send the manuscript as a Word file two to three weeks ahead of the course to give students extra time to complete the editing. Each week we'll discuss one-sixth of the manuscript, or about 13,000 words (about 50 pages) per week.
What kind of equipment and software will I need to participate?
You'll need a computer, tablet, or smartphone and an Internet connection. You'll need to own Microsoft Word (or a subscription) that you use on your computer, and either be comfortable using Track Changes or willing to learn.
Who's leading the course?
Susannah Noel, MA, is leading the course. Susannah is a freelance copyeditor and proofreader with decades of experience working for Big Five publishers and indie authors. She is also the cofounder and president of Editorial Arts Academy. Read more about Susannah on her editing website for Noel Editorial.
Will there be homework/exercises?
Yes. The homework will consist only of editing the manuscript we provide.
Will the course teach me how to edit?
The course will help you hone your copyediting skills. If you aren't already a copyeditor or you haven't taken any copyediting courses, we strongly suggest you receive initial training before signing up for the mentorship.
Is there a prerequisite for the course?
The Copyediting Group Mentorship is designed for graduates of Copyediting Fiction and Nonfiction Books: Principles & Mechanics, a course offered by Editorial Arts Academy. If you have taken a different copyediting course – for example, through the Editorial Freelancers Association – that's fine, too.
Can I expect to get editing jobs as a result of taking this course?
Probably. However, since we don't know your background or skill set, we can't guarantee that taking this course will automatically lead to getting editing jobs. However, if you know how to edit, implementing the strategies and tactics this course teaches will put you in a better position to succeed in your editing career.
If I have experience as an editor, is this course right for me?
If you have experience as an editor but want to dive in to the finer points of copyediting, this course will give you the information you need to do so. Through the graded feedback, class discussion, and forum, you'll have a much better sense at the end of the course whether you're ready to take on editing projects with indie authors or publishers.
What does the course cost?
$199.
Is my personal information and credit card information safe?
Absolutely. Please review our privacy policy here.
How can I sign up?
Easy! Just fill out the form below.
Register Here
Click the button below to register.